Meet Our Pets
Please Introduce Us To Your Pets!
We would love to meet your pet!  
If you would like to to introduce your pets to our Aurora family please email brandy.sehn@nlsd.ab.ca a paragraph and a picture and we will post it here.
Scroll Down to See Everyone's Pets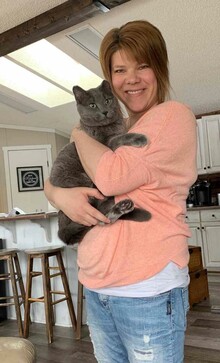 Mrs. Sehn
Hi Aurora students, it's Mrs. Sehn!!! I wanted to introduce you to two of my pets.
Let's start with my cat. Ash is my gray cat who is 10 years old. We got him when he was just a kitten, he was an outside cat and had frozen his ears in the winter. The kids and I brought him in the house and fell in love. Ash is a goofy cat who plays fetch when you throw something . He has a rubber bug that he will bring me on the couch and I will throw it and he will bring it back for me to throw again. He doesn't like Sarge, our dog, at all.
Now to talk about our goofy fun loving dog Sarge. You can see him on the main page here on the Aurora Website.  Sarge is my Bug which is a mix between a Boston Terrier and Pug. We traveled 14 hours to get him. He is now 2 years old! Sarge is a very goofy dog who loves loves loves popcorn!!!!! If he hears it popping in the microwave he will sit and wait by the microwave until it's done then he will follow you to the couch. The funny thing is if you have it in a bowl and you are not paying attention to him he will hit the bowl with his paw and flip the popcorn all over! Another crazy thing he does is if his food bowl or water bowl is empty he will bring it to you and because it is metal when he drops it it makes a huge BANG! Oh boy when it's night time and we are all quietly watching a movie he sure makes me jump! 
Max the Chocolate Lab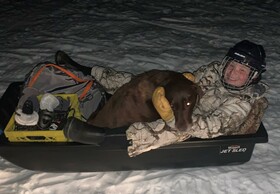 This is my 10 year old chocolate lab Max. He is an old boy who had surgery on his knee and hip when he was 6 years old. He now has arthritis in his knee. When he saw me in the sleigh being pulled by the skidoo he jumped in to a get a ride home. Max is a gentle dog who loves all animals. If I am hurt when playing outside, Max will get Mom and Dad and then lay by me until I get up.
Sammy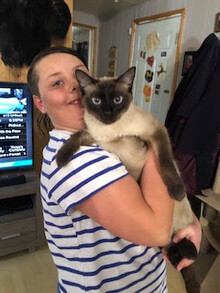 This is my pet Sammy. When he is mad his hair turns black, but when he is happy his hair is white. His eyes are blue. He is always in a bad mood. He is a Siamese cat and he is one year  old. Sammy loves licking the ice cream bowl when you are done with it. He also loves to eat beef jerky. If one of my other cats comes beside him when he's eating his jerky, he growls.  Sammy loves laying on my bed and my mom and dad's in their room.  Sammy loves to run around the house like a maniac and he does a flip every time he runs around the house. 
Thumper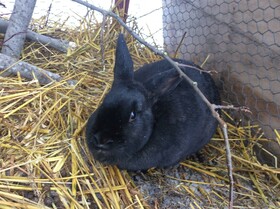 This is my rabbit named Thumper. He is one year old. He eats oats and vegetables. He likes to eat willows. I sometimes walk him with his leash, he likes to walk in the snow.
Mrs. Cox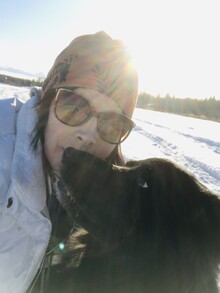 Hi everyone!!  Mrs.Cox here.

Let me introduce you to our dog Scout.  Scout is part Golden Retriever, and part Border Collie. He is 6 years old, and we got him from a farm outside of Edmonton. He is a super loving dog and LOVES to be around people.  He loves to go for walks, and is great at keeping other animals out of our yard.  He does not like loud noises and if it is thundering out he will hide in a tight space.
Ms. Pauline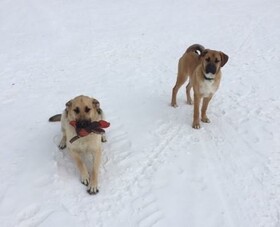 This is Ms.Pauline and my dogs 13 month old Bella and 5 month old Harley. Bella is 3/4 German Shepard and 1/4 black lab. Harley is 1/2 boxer and his mom was a rescue so we're not sure what breed she is. These two love to play and wrestle. Bella loves her toys and Harley just loves to harass Bella. Both need some discipline schooling. When we go for a walk they love to run into the back of my legs.... which is no fun for me.
They love their mom and dad and we sure love them.

Have a great day everyone. Sure miss you all. I hope you are staying safe and happy. Hope I get to see you all soon.
Ms. Cardinal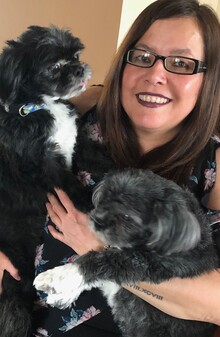 Meet Cosmo and Rufus! They are brothers from the same litter. They are a Shih Tzus breed.  Cosmo has white paws, and loves kids. On the other hand Rufus is a barker and would rather be left alone. They love their treats and walks.  We are looking forward to spending more time outside once the snow melts!
Ava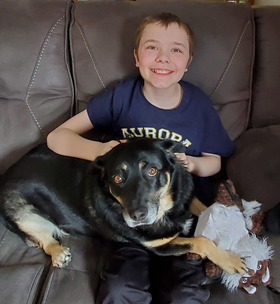 This is my dog Ava. We rescued her from the humane society in February. They think she is about 2 and a half years old. I like to play with her. We taught her to shake a paw and we are teaching her to lay down. She is a really good and smart dog. She loves to play with her teddy bears but she destroys her teddy bears
Mrs. Wowk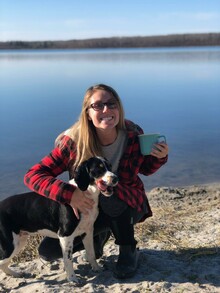 Meet Binks (AKA. Gooner). She is a pure bread English Springer Spaniel and has been my trusty side kick for five years now. She was born in South Dakota and has traveled to many cities with me since her adoption. Binks loves to swim, is amazing at retrieving and her energy is uncontainable. She loves to snuggle at night and her best friend is a little black cat! Binks will bark at anything scary, and to her, that's everything that moves or makes noise. She's a great protector and an even better snuggle buddy!! If you ever get the chance to meet her, be prepared to be attacked by kisses.
Mrs. Cloutier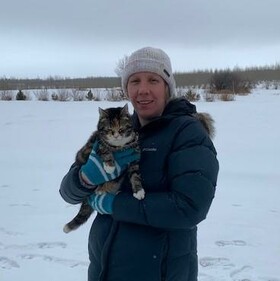 Hello Aurora Students!  I'd like to introduce you to two of my pets.

We have four cats in total, and my favorite one is named Woffles.  She is named after a heroic rabbit in a story I used to read to my kids when they were little.  Woffles is very friendly to everyone that she meets and she always comes running to greet us when we come outside.  She spends the winter in a heated house with her three cat buddies and in the summer time her favorite spot to nap is on top of the pile of wood inside the firewood shed.

We also have one dog named Harley.  She is four years old right now.  We adopted her from a family that did not know exactly what kind of dog she is.  We think she has some German Shepard in her, and maybe some Lab.  She is friendly and loves to have her belly rubbed.  She has a lot of energy and doesn't like to stay still so it made taking a picture with her kind of tricky.  She has finally learned that cats are friends and not toys to chase around, so we sometimes find her snuggling with the cats
Ms. Sally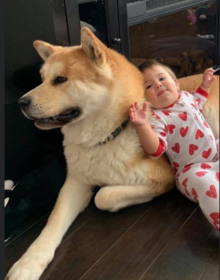 This dog belongs to my daughter and her family. He is an Akita and his name is Hatchi. He loves his family very much and is very protective over them.
Koko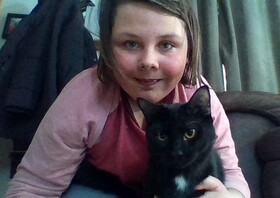 This is my cat Koko.  He has orange eyes and he is black everywhere but he has a white patch.
Koko likes eating beef jerky and licking ice cream bowls.  Koko is a fat cat and he is a very active cat.  Koko likes to cuddle a lot on my bed. Koko is zero years old and half the time we see him he is staring outside the window. Koko loves to watch TV a lot. Sometimes when we get home Koko will be on the table.
Stormy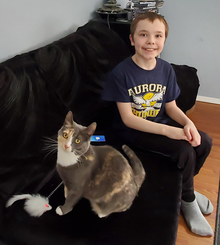 This is my cat Stormy. She just turned 6 years old. She likes to sleep in my room. My Dad's old boss gave us Stormy when she was a kitten.
Mrs. Dempsey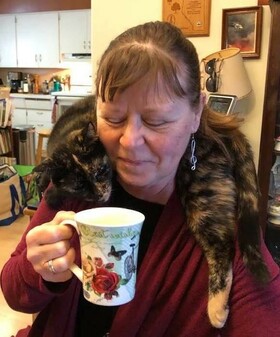 My cat, Embers, has a lot of nicknames.  We call her "Pirate Cat" because she likes to sit on my shoulder.  She will ride around the house on my shoulder!  We also call her "dog cat" because she will follow us on walks, eat almost any food that falls on the floor, and even fetch a small foam ball!  Once Embers even jumped into my kayak, so this summer I plan to buy a cat life-jacket for her.
Luna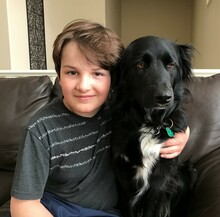 This is our dog Luna.  She is a two year old border collie/golden retriever cross.  Luna loves people and is always happy to greet new friends.  She is a very affectionate girl who loves to cuddle on the couch.  She has tons of energy so is keeping us busy walking her many times a day! 
Oreo and Rock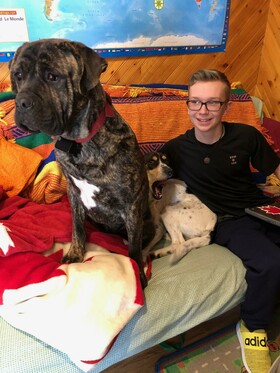 These are two of our four dogs, Rock and Oreo. Oreo was named after the cookie "Oreo" because she represents the colors of the "Oreo Cookie". Relatives of ours rescued her, but they didn't want a dog. So we decided to take her in.
We got Rock along with Poppy on Remembrance Day. Our family was looking forward to naming a dog Rocky. Although, Poppy and Rocky sounded too similar. So we decided to name him Rock. My dad always wanted a dog that was part Mastiff. In early November, our family later found out that our relatives dog was having puppies which so happened to be Mastiff-cross.
This is how we came upon Rock and Oreo, two of our four dogs.
Bella and Poppy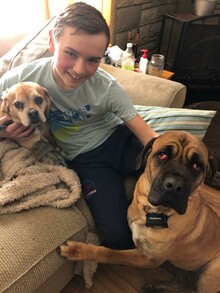 Meet my dogs Bella and Poppy.  Bella is a puggle (pug and beagle). She likes to go on rides,  doesn't like going outside due to her shock collar, likes to snuggle, and somewhat likes to play.  We didn't name her Bella, we got her from our cousins and kept the name.
Poppy is a tosa.  She likes to go outside, play with toys, get pet, and bark. She is fine with her shock collar.  Poppy can be very stubborn at times.  We named her Poppy because we got her on Remembrance Day.
Mrs. Shulko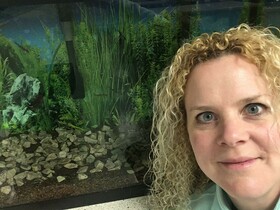 My pet fish. Rainbow trout that we are raising in the classroom.
Our Pets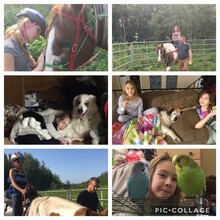 Here are some pictures of our pets. The dogs' names are Gallagher and Zoe. They are our guardian dogs. Our horse's name is Eclipse. We also have a birds named blueberry and Lime.
Abby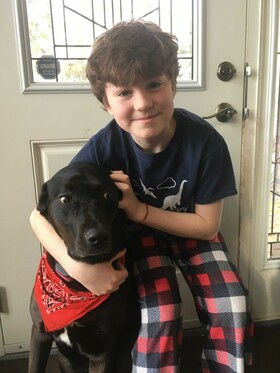 Abby is three years old and is a mixture of Black Lab, Border Collie and German Shepard.
She can do lots of tricks like sit, shake, lie down, roll over, fist bump, high five, stay and come.
Never say the following words unless you mean them:
      - Food
      - Run
      - Treat
      - Truck Ride
      - Squirrel
Ms. Henson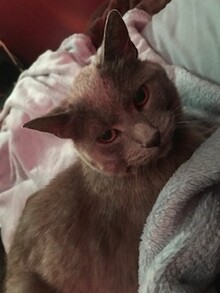 This is my seventeen year old Russian Blue Cat,  Natasha.  We call her Momma Cat.  We have had her since she was a kitten.  Here she is relaxing in some fresh laundry.  Momma Cat may be an older cat but she is still very playful and a fantastic hunter.  This cat is definitely part of the Family!
Franz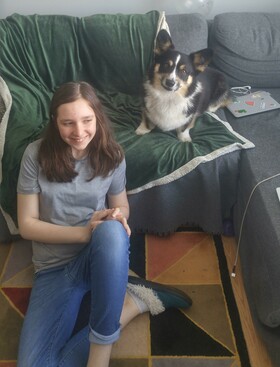 Hi Aurora,
This is my dog Franz (named after Franz Kafka, you can look him up). He is a very active 2-year-old Welsh Corgi. His dad is a very handsome show dog and his mom is an extremely smart farmgirl. Franz is full-time cute and part-time smart. His favourite game is chasing laser pointers and he likes learning new tricks such as jumping through hula-hoops and dancing in a circle. I think he would make a great circus dog (or maybe a circle dog since he loves food so much). At home, we call him 'chungus' or 'sausage'. You can summon him from anywhere by crinkling a snack bag. Even though he is round and tiny, he is as fast as the wind and loves to play 'tag' with my family. 


Mr. Kangaloo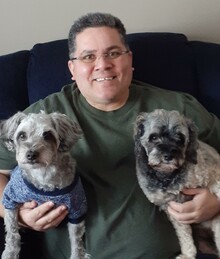 My daughter Ella (who is the left) is an 8-year-old Schnoodle. She loves to play fetch and could probably chase a toy 24 hours a day. She loves to go for walks but likes to bark at other dogs a little too much. She acts like she is tough but only weighs 14 lbs. My other daughter Lucy (who is on the right) is a 9-year-old Cock-a-poo. She is more of a lap dog and would rather cuddle and have her tummy rubbed all day long. She just loves attention from everyone she sees. She is a fan of treats and we have to watch that she does not eat Ella's food. She is a little bigger and weighs about 18 lbs. 
Rocco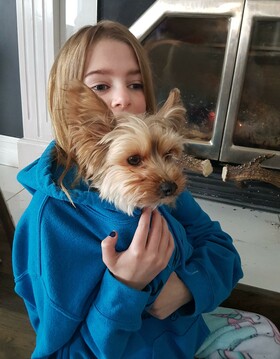 This is my puppy Rocco. He is a Yorkie and is about 5 pounds. Rocco's favourite human is my sister. He enjoys sleeping under blankets and in your sweater. Also, he loves popcorn. Right now he is a little shaggy because he hasn't had his spring haircut yet. I love my Rocco!!!
Casey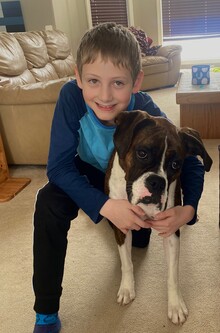 My dog is a boxer and her name is Casey. She is almost 2 years old. Her color is brindle. I like to play with her but she likes to play rough. She likes to play outside and go for long walks. She also likes to sleep when she is not playing. She is funny and makes me laugh. I love my dog!!!!
Sam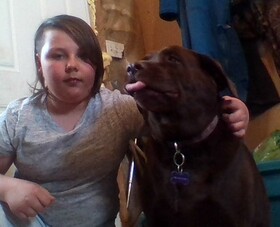 This is my pet Sam.  She is a chocolate lab and she is seven years old.  Sam is a really good guard dog.  Sometimes if people walk close to you she growls and barks.  Sam loves to eat steak and dog food.  Sam had two batches of puppies. Sam is brown and she has blue eyes.  Sam loves to run outside.  She loves when you rub her belly.  Sam knows how to do tricks like shake a paw, sit down, and stick her tongue out.
My Cats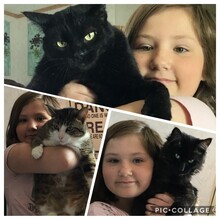 I have three cats.  Two are black and one is white, black, and brown with stripes on his back. All my cats are really big.  Their names are Neil, Boe and  Buzz. Buzz and Boe  are very big because they are full grown.  Neil is still a kitten. Neil is really bad - he likes to scratch people. When I was writing this Neil came on my lap and was sitting there watching me type.  Then he went to the side of my iPad and started chewing on my case. We call Neil the bad boy. Boe doesn't do much but sit on my top bunk. Buzz does the same thing as Boe and sit on the top bunk. Buzz will go outside and go run sometimes.  Boe will just sit on the steps. 
Bear, Cuddles and Peanut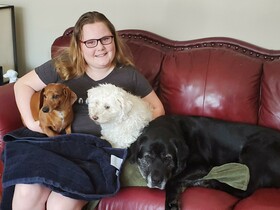 These are my three dogs. Bear is my black lab - Great Pyrenees, Cuddles is my Poodle, and Peanut is a Wiener Dog. They are very friendly but sometimes Peanut is very vicious but not violent. Every time Peanut will bark at my brother when he comes by. They're sweet and kind.  They are very loving and they like to come and play with you. Cuddles loves to cuddle all day and all night long and  he sleeps all the time. He hates when you wake him up to go outside and he will lay there and look at you like you are crazy.  Bear is a very playful dog but when we have people that come over that he does not know, he starts to bark very loud and sounds very aggressive. He likes playing fetch with me and my brother, and he always comes onto the  trampoline when me or my brother are on it. Sometimes the dogs bark at literally nothing.  Peanut will bark when the neighbour comes to their house. These are my dogs .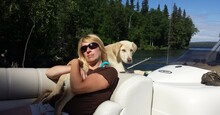 Hi everyone, it's Ms. Verboom. I would like to introduce you to my dog Boomer, named after me of course. He is about seven years old now but still loves to play, especially tug-of-war and fetch. I got him when he was nine weeks old and he was quite an active puppy. I could hardly keep up with him but thankfully he has calmed down since then. He is a lab so of course he loves the water. I think he would stay in the lake all day if you let him. He loves to go for walks down the trails and also loves going for rides on the quad or in a vehicle. He is my baby boy.
Chase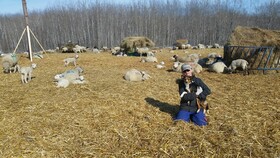 This is my dog Chase and some of my family's 200 sheep plus their lambs. We have work dogs but this is the family pet. He loves to run and go for quad rides. Our bus driver wants to take him home.
Snuggles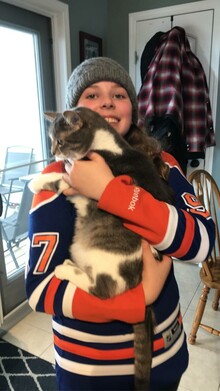 This is Snuggles. Snuggles is a playful and fat cat who is 3 years old. I found Snuggles under our front porch three years ago on my moms birthday. She loves to sit on the ledge just above the last few steps of our staircase and bat people with her paw. When all the snow melts Snuggles likes to go hunting and eat every last bit of mouse except the organs. Last year she killed a mouse and left the heart and a few other organs on our front step.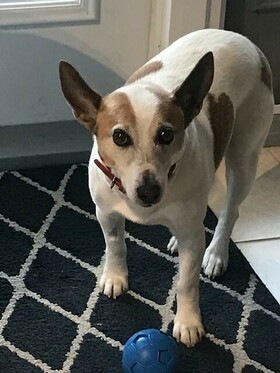 This is my dog Caesar. Caesar is a very old and playful dog. He really likes his blue ball and this huge plastic egg that he can't get his mouth around. He also really loves to lay in the sun and go on long walks. Caesar is a Jack Russell terrier and is 12 years
Creamsicle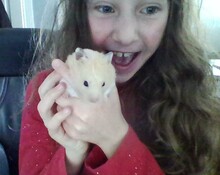 Creamsicle is my hamster. He's one and a half years old. He is so sweet. I got him when my friend's sister didn't want him. He's a Banded Syrian hamster; he loves fresh fruit and veg.
 He's nocturnal so he sleeps in the day. I can still play with him though.
Mrs. Dupras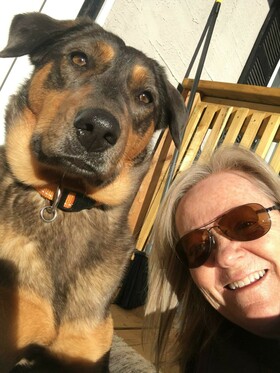 This is my friend Dottie. Dottie is a mixed breed and we got her from a humane society when she was about 2 years old. Things to know about Dottie.... She loves to chase hares, ravens and squirrels, and loves us almost as much as she loves chasing hares, ravens and squirrels.
Rozie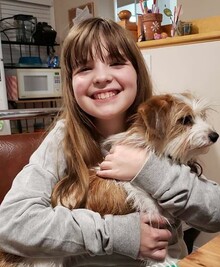 This is a picture of me with my dog Rozie. She's a cute little mutt.  Rozie can roll over, sit and shake a paw. I like her cute face, soft fur and sweet personality.  She is a licker, sticker dog who likes to beg for any food we have.
Cookie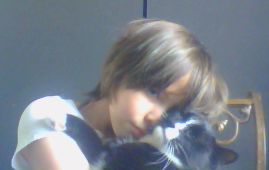 My pet's name is Cookie. He has been living with us for 4 years. My pet Cookie can open doors!