Career Preparation
Career Preparation

Career and Technology Foundations (CTF)
Career and Technology Foundations (CTF) provides students in grades 5 to 9 the opportunity to explore their interests and career possibilities.
Career and Technology Foundations (CTF) helps students build their understanding of the world around them as they identify and apply career and life skills. 
Students develop communication, collaboration, critical thinking, time management and problem solving skills through hands-on learning experiences. CTF supports the development of literacy, numeracy and competencies which can be developed through student-focused learning opportunities that can include an interdisciplinary approach.
CTF also provides a foundation for students to transition into Career and Technology Studies (CTS) in Grade 10 through 12.
Aurora Middle School provides students with numerous opportunities to develop their CTF skills.  
Industrial Arts & Home Economics are offered to all  students in grades 7 and 8.  
Students in grade 7 and 8 also have the opportunity to apply to be in our Youth Achievement Program class, where the main goal is to offer career exposure opportunities that both engage the students in the learning process and connect the curriculum to a variety of careers that students may be interested in pursuing. 
Click here to learn more about our Youth Achievement Program
Google Apps for Education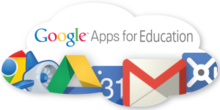 Digital Learning - Google Apps for Education (GAFE)
Our world is changing at an unprecedented pace.  Technology has transformed culture and the way students communicate and learn.  Technology has impacted all areas of our personal and professional lives including how we educate ourselves and how we educate others.  As a result of this ever-changing environment, Aurora Middle School decided that there was a need to reform our education systems to meet the needs of today's learners and allocated resources to improve the integration of technology.  Today Aurora Middle School has over 300 Chromebook computers available for staff and student access to technology.  
Aurora Middle School supports GAFE for students and teachers.  Google Apps for Education is a powerful collection of secure online collaboration and productivity tools for students and teachers, as well as unlimited online file storage for educational purposes. These tools are accessible from any network and offer tremendous opportunities for students to extend learning beyond their school and into their home and community.
Benefits: 
improves student and teacher workflow for collaboration and sharing of learning;
supports and enhances the delivery of educational services to students;
enhances opportunities for staff to participate in professional development activities;