Back to all posts
Posted on
Return of Student Possessions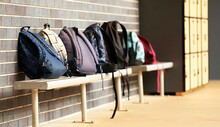 We have been working hard to organize ourselves so that you can pick up your child's possessions here at Aurora.  We needed to find a way to return your possessions while at the same time minimizing contact between members of our school community.  
You will be able to pick up your possessions here at the school on Monday, March 23rd, or your child's bus driver will deliver them on Tuesday March 24th.
If you plan to come to the school on Monday you will find your grade 4 and 5 child's possessions in the Industrial Arts Shop and your grade 6, 7 and 8 child's possessions in the cafeteria.  Please simply drive to the school as though you were picking your child up (remember, it is a one way road) and someone will meet you outside the cafeteria / shop doors to bring the bag with your child's possessions to you.  This will be available between 8:15 AM to 9:15 AM, 12:00 PM - 1:30 PM and 4:00 PM to 4:30 PM.  If you are not able to come during those times please call the school next week to make arrangements for a different time.  
If you would like your child's bus driver to deliver your child's possessions then please wait for them to call you and make arrangements with them for delivery to your home.  Bus drivers will contact parents about the time and location of delivery. They may not be able to go door to door for all deliveries. For some rural routes and a few places in town (cul de sacs), etc. they may need to drop off at the end of a driveway or sidewalk. Parents will be contacted by the bus drivers to confirm the locations and time period.